Part I
I simply can't resist a stile. They are symbolic, somehow. When I climb over a stile, the modern world just goes away and stops bothering me for a while. Closest I've come to the door to Narnia. This stile is the closest one to the edge of the village on the east side, towards Beeston. At night, it is an eerie place to approach since the road is only lit about as far as this stile. After that, the light stops at what looks like a cave of blackness as the road winds away into the countryside. Actually, it is quite dangerous to walk on the lanes at night. They are only about 15 feet wide, less in some places, and there is no pavement (that's a "sidewalk" to Northamericaners). The verge is often only about two feet wide and sometimes less. And the corners are blind. There is only room for one car at a time and no place to jump when they come. You just listen very carefully, (easy because of the total silence) and press up against the hedge when a car comes.
Off in the distance, you can see the hills where I'm heading. That's the Sandstone Ridge. Historically, shelter for Celts, Cavaliers, gypsies and hermits, all seeking refuge from detection. If the door to Narnia is anywhere...
On the other side of the stile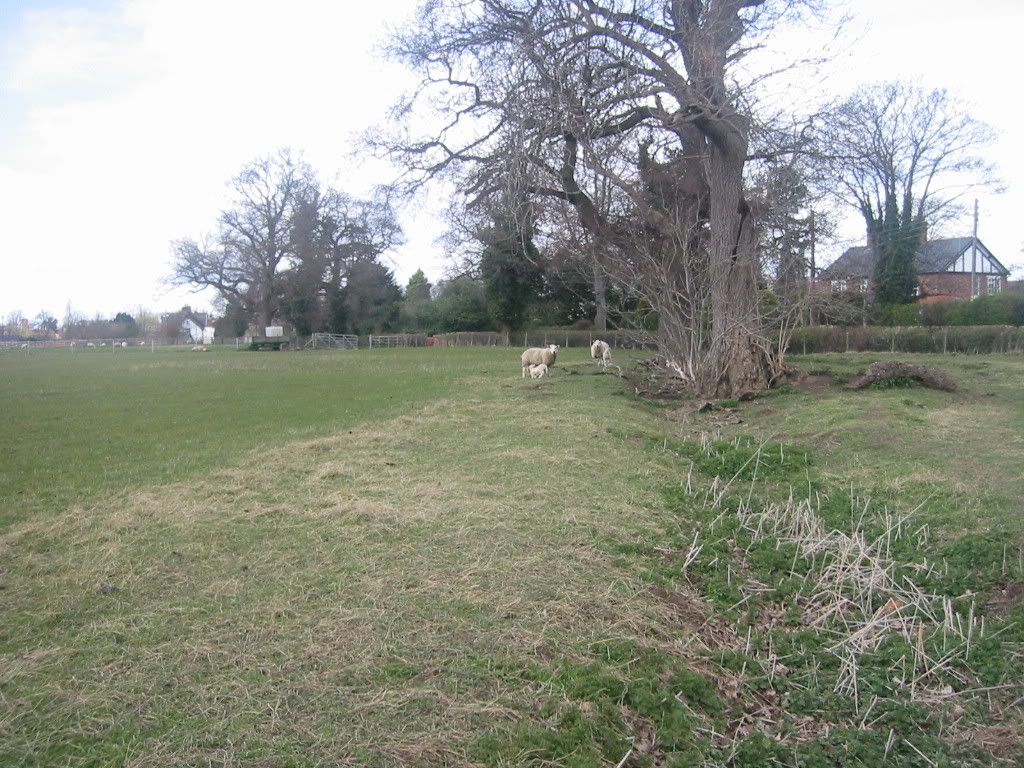 the sheep fields (looking back toward the village,) stretch ahead. Despite the word "sheepishness", the sheep are actually quite protective of the lambs so it's a good idea to give them plenty of room. They certainly look at you very sternly and usher you on your way quite brusquely.
My kit-bag
with Beeston crag, ever looming, in the distance. The weather is pretty changeable this time of year. It was a very warm day, in general, but up on the ridge, I was very glad to have my wooly cardie.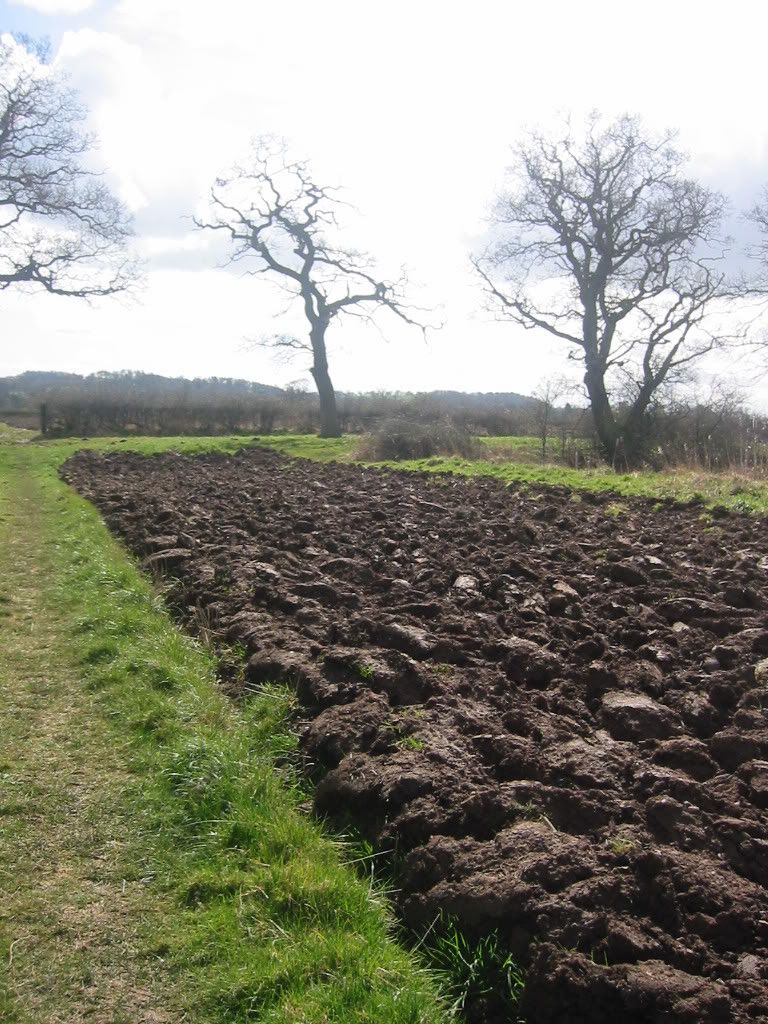 The sacred earth. How long has this particular patch of ground been tilled, every spring (or every other, being left fallow in between)? I like that the farmers are so careful not to plough up the footpaths...there's probably a fine.
Sometimes you have to do a little creative interpretation of the right of way laws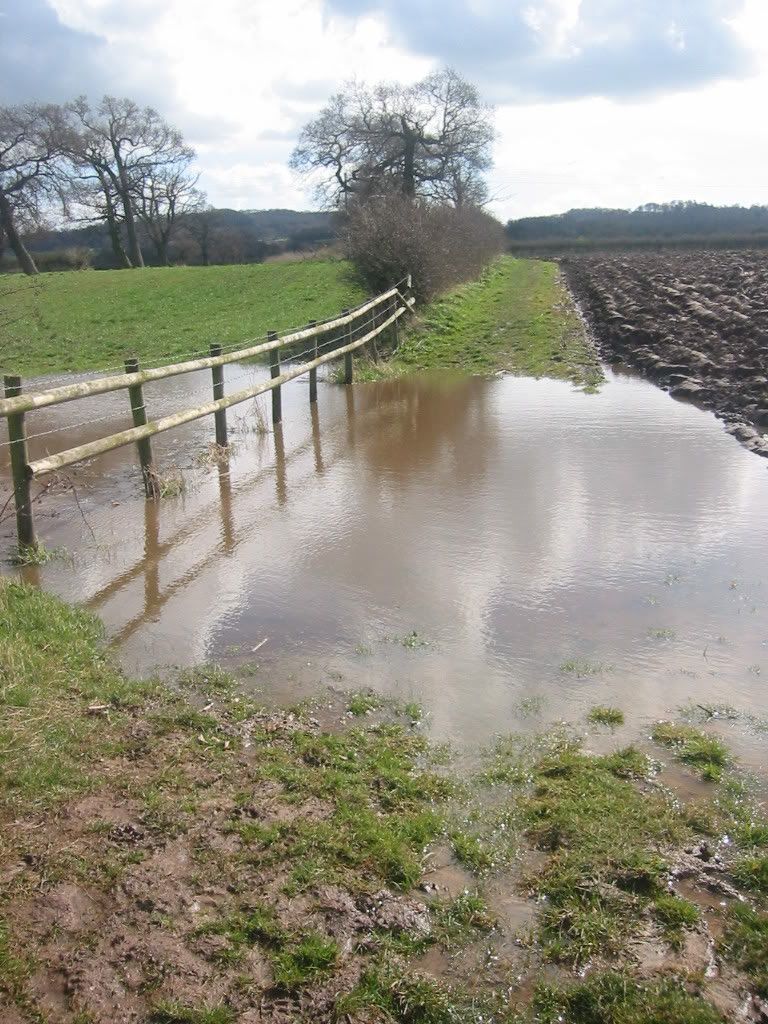 it really makes one appreciate the great Wellington Boot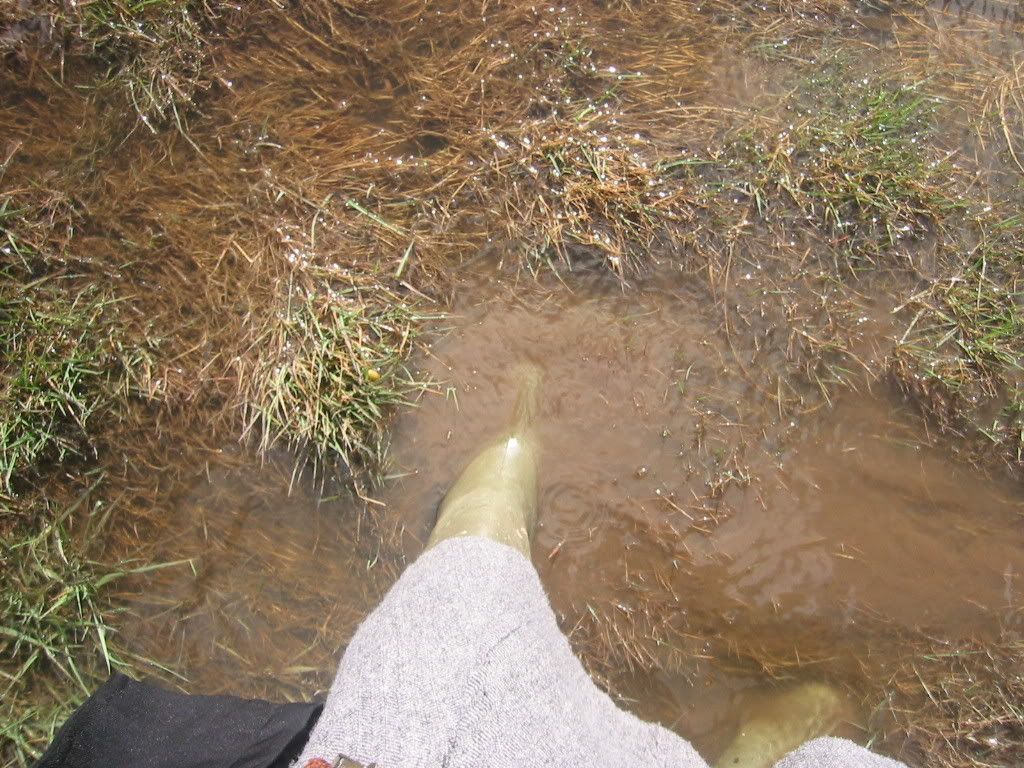 Every inch of this country is cultivated, cared-for and jealously watched-over. The English have turned their island into another Eden.
This little wood is at the end of the fourth field along from the lane. It surrounds a pair of still ponds, full of newts, frogs, ducks and coots. I go in there when I'm looking for kindling sticks and at Christmas for pine cones and holly, and I always wonder how long it has been there.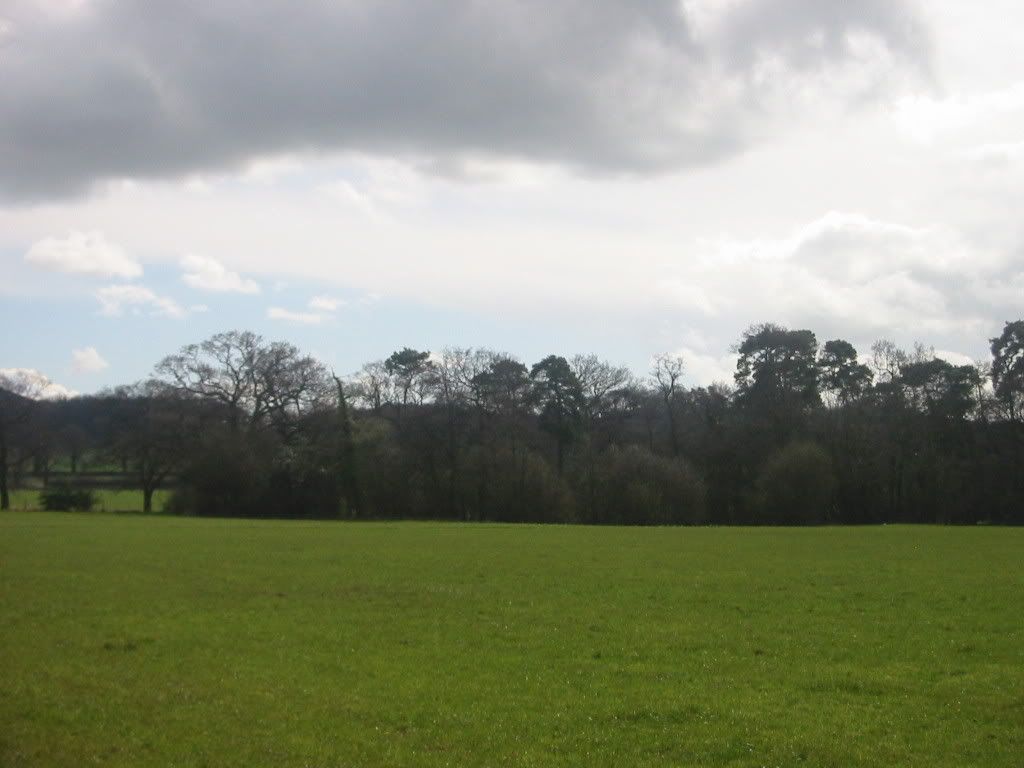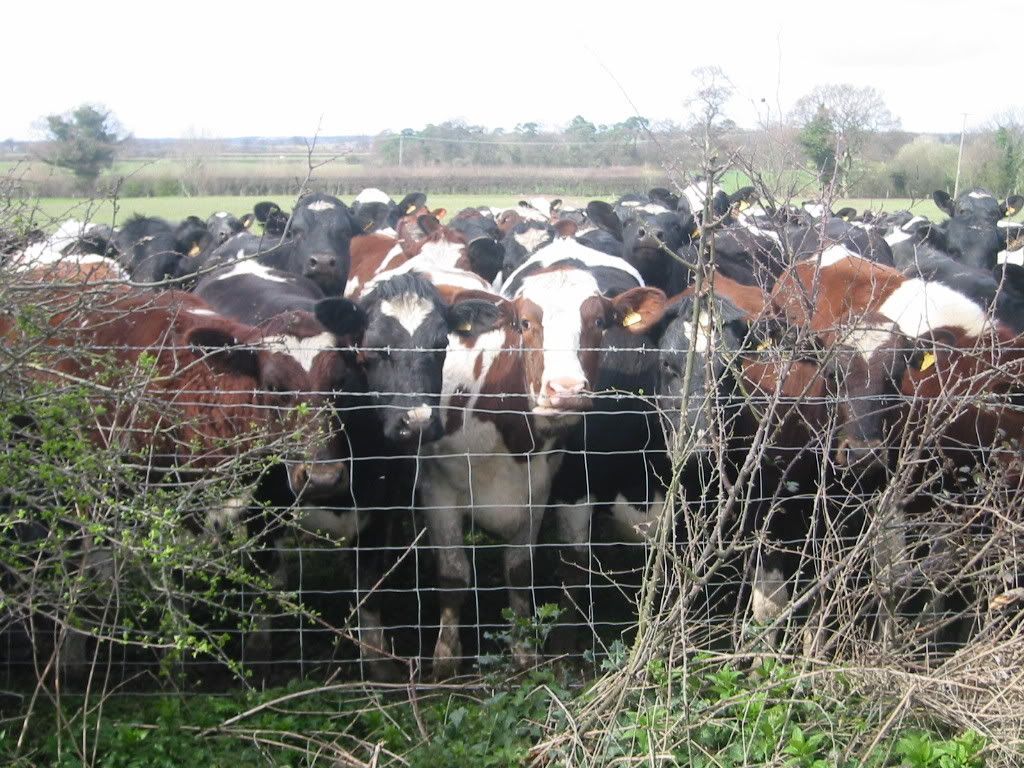 There's a funny thing about cows. I don't know why, but if they see someone walking across their field, they become very agitated. Even when they see people walking along the lane next the field, they will come crowding around, often clamouring over each other to get close. I don't know how to interpret this. Are they defending their territory? Or do they think it's feeding time? I don't know anything about cows and have no idea why, but they do go all wiggy when they see someone crossing a foot path. It's why it's a good idea to take along a pair of binos. When you come to a stile, it's good idea to check to see if there are cows at the other end who aren't held in with a line of fencing. And if there are, to find another route.
At the end of five fields from Tattenhall, towards Bolesworth Castle, we come over an other stile to Dark Lane.
go down that lane for quite a while, and you will come to the road up to Burwardsley, and a place called Cheshire fishing where people go to practice with their rods. It doesn't seem like real fishing to me. More like kids playing at fishing in a pond that has been deliberately stocked for the purpose. But that's probably just the Canadian in me. There isn't any wilderness here, and hasn't been for a very long time.
The other direction, you can see, is the road to Bolesworth. This is the back gate to the estate. When I came here, this cottage was empty and I had a poke around the back. It's lovely, and the garden is well-kept. That's Bolesworth. They have a very good reputation here as excellent landlords.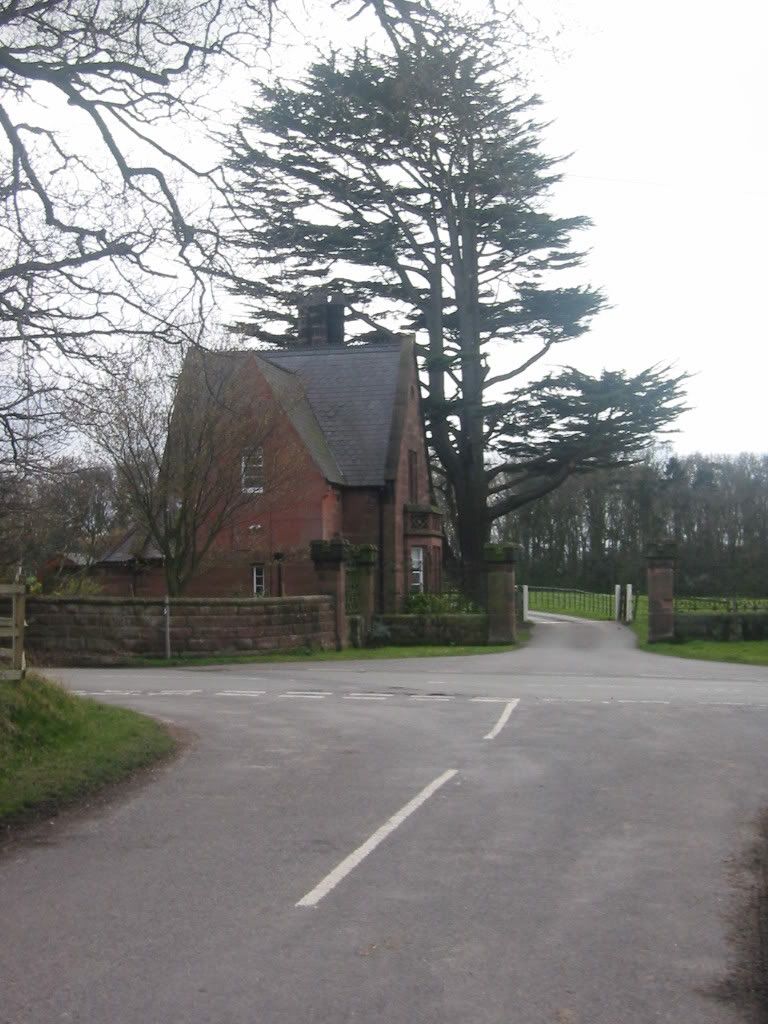 more to come...